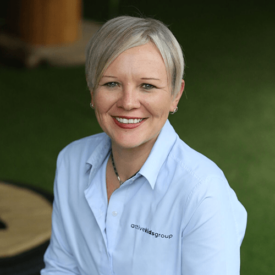 A Little About Kylie
I have worked in Early Childhood Education for 20 years in a variety of roles within the AKG organization. I started off at our Narwee service in before and after school care, before becoming an assistant in the toddlers while completing my certificate. I then moved to a lead educator role with the preschool group before taking on the coordinators role of Narwee for a few years. In 2006 I then moved over to our Mascot service as the coordinator.
The most rewarding part working with AKG Mascot has been the children that have been in our service. Having the opportunity to form bonds with the children, seeing them grow and learn from our nursery to our preschool group. Mostly knowing that I have assisted and played a part in their early years, welcoming that each individual child can bring something unique to our service.
I also thoroughly enjoy creating new learning environments and experiences alongside the children to enhance their foundation of curiosity, exploring, investigating and learning. I am always looking for ideas on enhancing our environment which we can use in our service while adding the Mascot culture touch.
I hold my Diploma in early childhood and I am in my final year of completing my degree in early childhood at Avondale College.
Here at AKG we are also regularly trained in first aid, CPR, asthmas and anaphylactic training and Child protection and are provided the opportunity to attend many workshops and training sessions to increase our learning.
I have been very fortunate to have be given the opportunity to work in a number of roles at AKG to develop my professional learning but before joining AKG I have worked casually in a local take away shop and at the Moore Park Entertainment Quarter when it was known as Fox Studios while studying a certificate in travel.
Yes early childhood was not the career path I thought of doing once I left school however after working a few casual days with my sister at a service I realized this was the career path for me,
I was inspired by the way the children viewed the world and showed a love for learning as they wonder, investigated and made new discoveries through their play. Educators set the tone for a child's positive learning attitude for life spending time with the children seeing how they inspired me to become an educator.
Here at AKG Mascot our families play an important role within our service, having the families and children share their special weekend trips with us so that these can be extended in the service, we strive to develop secure, respectful and reciprocal relationships with families and build partnerships based on the foundations of understanding each other. The children and educators are always out and about in our local community either visiting the local park, attending story time at the library, watching the growing construction building our local community or a trip to the local supermarket to buy supplies for a cooking experience. I believe connections with the local community enhances learning opportunities and provides a sense of belonging.
2014 Outstanding service.
2015, outstanding community involvement award
2017, Above and beyond award.
I believe children should be given the opportunity to be curious, capable and knowledgeable learners. I believe in empowering each child so that they will make choices throughout their day and ensuring they have opportunity to grow. A learning environment should pose as the third educator, offering children open-ended experiences to explore their imaginations, creativity and to challenge their thinking as they explore, investigate and discover. Educators I believe should set the bar for a child's positive learning outcome for future learning life experiences.
I love to read, if I could I would read all day. In my spare time you can always find me with a book or now my e-reader in hand as I have run out of room on the book shelf.
I also love to travel and have been very fortunate to travel to a number of places, I especially like to travel where it is warm so a trip to the beach can be on the cards, that's why Bail is always a popular trip each year.
I have many memorable memories from my childhood, one favourite would be going on family holidays, one being a trip to America. Visiting Disneyland, the happiest place on earth, the rides, seeing the characters and just being there as a kid. Stopping by Famous landmarks that was before only seen on TV and a day trip to Universal were you get the chance to be in a scene from Back to the Future, time travelling car driving along into the future.
ENROL YOUR CHILD TODAY
Enrol your child with an Active Kids Group Child Care Centre Today.